There is no translation available.
How does the test work?
The Hydrosense test detects Legionella antigen using the well-established lateral flow test technology. The same technology is used in many medical tests. The test works just like a pregnancy test except it detects LpSG1 antigen rather than pregnancy markers. It works by attaching colour indicators to Legionella antibodies printed on a cellulose strip. This type of test is a specific type of lateral flow test.
WHAT IS A LATERAL FLOW TEST? (LFT)
(LFT) technology has been used in medicine for more than 30 years and is a standard type of test for hundreds of different uses: medical, environmental, food, beverage, veterinary and drug detection, amongst others.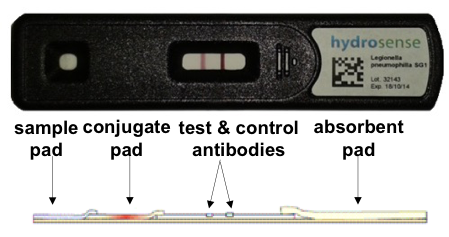 DOES IT TEST FOR ALL LEGIONELLA BACTERIA?
The Hydrosense test is highly specific for Legionella pneumophila SG1. This is the variety of Legionella which is responsible for the majority of legionnaires disease cases and has been responsible for all known outbreaks of the disease.
WHEN TO TEST?
The Hydrosense test is particularly useful in 5 situations:
In any environment without easy access to a lab. Many sites with critical water supplies are in remote locations without ready access to lab testing. On site testing provides invaluable reassurance.
Checking after a disinfection treatment. Once an infected water system has been treated, the faster it can be confirmed that the treatment has been effective, the faster everyone can get back to work.
Checking systems where control measures have gone out of conformance e.g. cold water too warm, hot water not hot enough, or biocide levels too low. The system may not be compromised, but a quick real time check will allay doubts and mitigate risks if a treatment is indicated.
Routine monitoring of water systems. If a water system is infected, then the faster this is identified the faster corrective action can be taken. The UK L8 guidelines rely heavily on the risk assessment procedure, which requires that testing regimes are tailored to specific circumstances of the water system.
Identifying source of outbreaks. If there is an outbreak it is important for both public health and legal reasons to establish the source as soon as possible. Immediate testing can provide immediate detection and should be carried out before any disinfection treatment as part of a sampling regime.
DO I NEED TO WEAR PROTECTIVE EQUIPMENT WHEN PERFORMING THE TEST?
No particular precautions are required. If the water is found to be contaminated, then you should avoid being near aerosols (showers and spray) from that water source, but there are no dangers associated with the test.
DO I NEED ANY SPECIAL EQUIPMENT TO PERFORM THE TEST?
All of the equipment you need to carry out a test is included in the kit provided.
DO I NEED ANY SPECIAL TRAINING TO USE THE TEST?
No. The tests are simple to use and no special training is required. Please see the video clips on the website which take you through the execution of the different types of tests.
WHAT INDUSTRIES USE THIS SYSTEM?
Hydrosense customers come from a wide range of industries. The convenience and ease of use of the Hydrosense test make it first choice for companies with facilities in remote locations e.g. shipping, including cruise and leisure, offshore oil drilling and remote mining. The Hydrosense test kits are also particularly valued in sectors where reputation management is important e.g. hotels, teaching establishments, leisure centres, swimming pools and spas, or where clients are often at high risk: e.g. dentists, care homes, and hospitals. The 10-14 days waiting for a result from a lab test is a time when employees and the public may continue to be exposed to risk.
Find out more about your industry here.
WHERE SHOULD I TAKE THE TEST SAMPLE?
The water sample should be taken as with any water sample for lab testing. However, we have developed several varieties of Hydrosense test kit to facilitate testing in a variety of industrial and domestic situations.
WHAT DOES A NEGATIVE RESULT MEAN?

A negative test result means that LpSG1 has not been detected in your water system . You don't need to take any further action.
WHAT DOES A POSITIVE RESULT MEAN?

A positive Hydrosense Legionella test means that Legionella pneumophila SG 1 (LpSG1) has been detected in your water system. This means that your staff and clients are at risk of catching legionnaire's disease. You should have your system cleaned immediately.
IF I GET A POSITIVE TEST RESULT WHAT SHOULD I DO?
We recommend that you should immediately clean your system and check that this cleaning has been successful. If the test has not been carried out by a water treatment professional, you will probably want to contact one. Legionella Control Association can provide contact details for a qualified professional in your area.
WHAT DOES IT MEAN IF I GET A SHADED RESULT?
If there are a lot of LpSG1 bacteria, then there is a lot of Legionella antigen. This gives a stronger response, which shows as a darker line on the test. Even a faint line indicates dangerous levels of Legionella which means that treatment is necessary.
DOES THE TEST HAVE A SHELF LIFE?
The expiry date of the test is 18 months form the date of manufacture. Each test has an expiry date printed on the test and the foil wrapper. We keep records of batch numbers and where tests and peripherals are sold. Hydrosense guarantees to sell tests to our distributors with a minimum of 6 months of shelf life and usually much longer.
WILL IT REPLACE THE CULTURE METHOD (ISO 11731:1998)?
The Hydrosense test does not replace UK compliance requirements. If your water system circumstances dictate that lab testing is required, you must carry out a lab test, even though this will take 10-14 days to return a result. Lab tests are for compliance purposes. The Hydrosense test is for risk management and can be used in conjunction with lab tests if a faster result is required.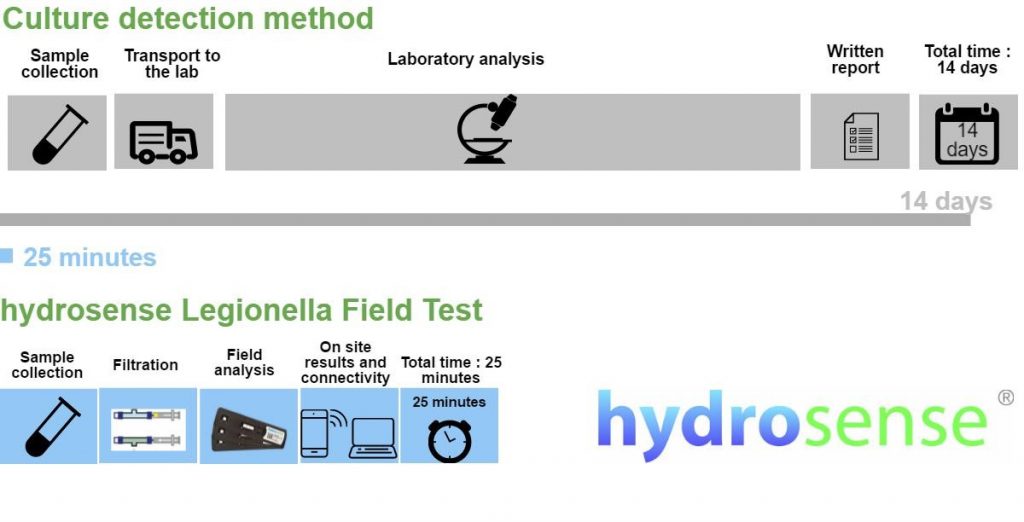 DO THE HYDROSENSE TESTS COMPLY WITH THE UK L8 REGULATIONS?
The UK L8 regulations allow for rapid detection techniques to be used as part of a Legionella risk management regime.
HOW WILL THIS TEST HELP ME MANAGE MY RISKS AND REMAIN COMPLIANT WITH THE LAW?
The Hydrosense test is a rapid detection test and as such is a management tool. The speed of the Hydrosense test allows management action to be taken immediately which can save lives so the best management is to treat infected water systems as quickly as possible.
DOES IT HAVE ANY APPROVALS/VALIDATIONS?
The Hydrosense innovative method has been recognised and independently validated by both commercial and research institutions around the world including China. The Dutch Water Research Institution (KWR), compared the test with lab culture and PCR methods and stated that the Hydrosense test is a useful addition to the set of instruments for the daily management of cooling water systems. It also mentioned that its speed and simplicity make it exceptionally interesting for monitoring in emergencies. Please see our
Technical Notes
for the full reports.
HOW DO I STORE THE TESTS CORRECTLY?
The tests can be stored at room temperature, preferably below 300C and must be kept free of moisture. The tests come packed in a waterproof foil wrapper, which must be tamper free. Damaged wrappers mean that the test has been compromised and must not be used.
HOW DO I DISPOSE OF THE TESTS ONCE USED?
Used tests can be disposed of in normal waste procedures. The tests, even when exposed, contain no dangerous substances. If you have a positive test your water is an issue, but not the test. The Hydrosense product is intended for use as part of an overall water treatment, management and risk reduction approach and should NOT be used as the sole method for assessing risks associated with Legionella bacteria.